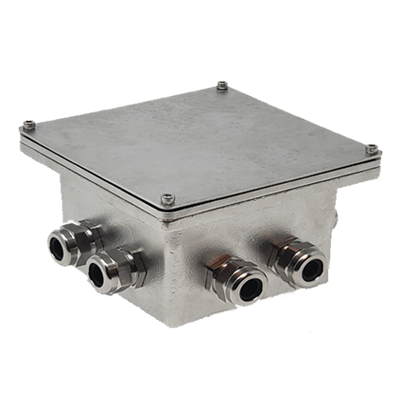 Junction Box
Junction Box
UL Listed for under water installation
5 1/2"W x 5 1/2" L x 3 1/2"H
Volume is 39cu. in. or 640ml

Tempered glass viewing lens with silicone gasket 316L SS lens frame and cover 4 to 8x1/2"NPT side outlets can be provided 3/4"NPT for conduit on bottom

UL listed nickel plated brass cord seals Certified for under water low voltage lights or 120V lights connected to interior ground screws and an exterior bonding screw

The removable 316L SS cover protects our interior glass viewing lens. The tempered glass is sealed with a silicone gasket and SS face ring just like our lights.

Removal of the SS cover provides a quick look inside the junction box without disturbing the water tight seal

All under water installations require approved potting compound and thread sealant to prevent water entry. Failure to do so may damage the lights and will void any manufacturers warranty.
Request Quote
Downloads
DataSheets
CAD files available upon request.
We are a wholesaler with a dealer network that distributes our LED's internationally to professional fountain designers and qualified trades.
Request Quote